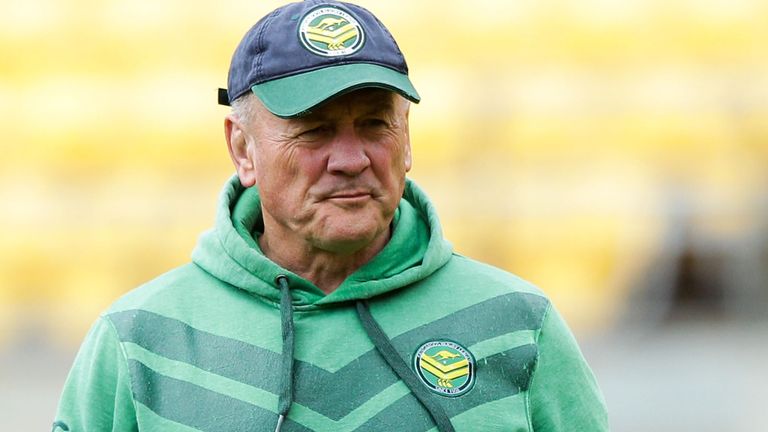 Tim Sheens says he does not know how long his new role at Salford will last or what direction his responsibilities will take.
The 64-year-old from New South Wales also does not know whether he will be retained as coach of Australia's national team – a position he has held since 2009.
Sheens arrived in England on Tuesday to become Salford's first director of rugby on a short-term contract.
Earlier this year he spent one month in an advisory capacity with Salford at the invitation of owner Marwan Koukash but, with head coach Iestyn Harris still officially on sick leave, he will have some input ahead of Sunday's home game against Hull KR.
Speaking about Salford, Sheens said: "My earlier role was just to support the coaching staff, while this is one that encompasses recruitment and overall planning, everything from staffing to recruitment of players and how the place is managed.
"It's still early days and we're still drafting what exactly the role will be. It will grow as we go along as we get to know each other a lot better.
"At this stage I'm only here for 10 to 12 weeks, it's still only a temporary position. Whether it develops into a full-time position down the track will be decided over the next couple of months.
"Selection is something with my experience the coaches here are using but I'm not going to interfere with their thoughts
"I've only been here two days and I'm still half-a-sleep but we've worked on things together. The coach is allowing me to work with the boys as well, so between the staff we'll get it done."
As for the Australia job, Sheens is yet to discover his fate as the national side do not have another match until May 2016 and there are reports he could be replaced by Mal Meninga.
Sheens led Australia to World Cup glory in 2013 and, regarding this role, he added: "That position still hasn't been decided.
"That's an invited position. I've had seven one-year contracts. If I'm invited again, then that's something to consider, although at the moment they're looking at maybe a full-time role and a contracted role into the next World Cup at least.
"Normally the positions come up around November. There will be no decision made before the end of the year."